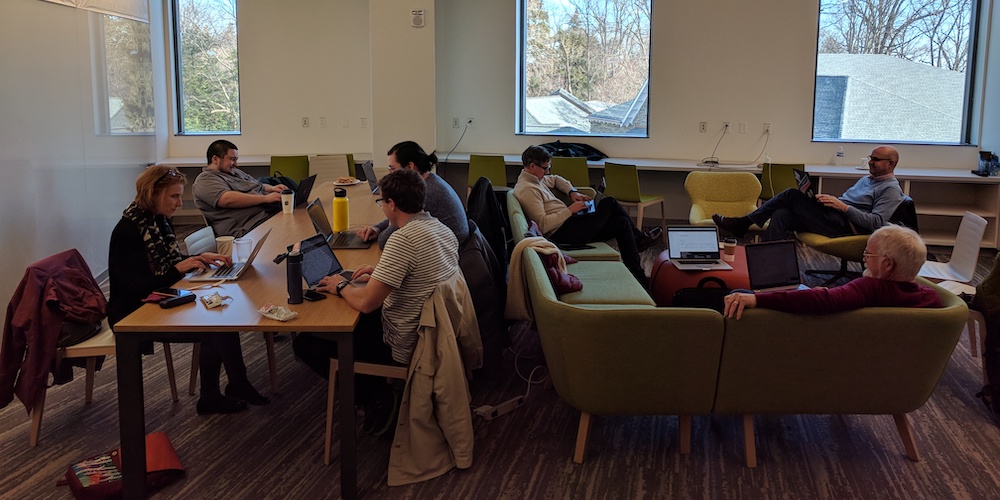 The last day of Hack/Doc, as usual, was a bit shorter due to attendee travel plans. We wrapped up around lunchtime after some discussions about Moodle 3.8 and accessibility.
Forum grading accessibility
We logged a third and final issue with the new forum grading tool and accessibility: MDL-67663. Again, some of these issues are specific to the tool, which some are broader problems with Moodle itself. We'll continue to monitor the situation. A major related issue is MDL-64494, where Moodle core is tracking project-wide color contrast issues.
Filescan block
We discussed the future of Swarthmore's "filescan block", which evaluates the accessibility of PDFs uploaded to Moodle. Several schools, including Hampshire and Lafayette, have been using the block on their Moodle instances. CLAMP is going to organize a workshop this winter for interested schools to come together to develop a roadmap and implement changes, which an eye toward publishing the plugin on the Moodle plugins repository and incorporating it into the Liberal Arts Edition.
Roster
We have released a new version of the Roster report; you may now configure which fields are displayed for each student, including custom profile fields. This release is available on the Moodle plugins repository and will be incorporated into the next release of the LAE.
And that's a wrap for this winter's Hack/Doc at Swarthmore College. Warm thanks to Andrew Reuther and Swarthmore for their outstanding hospitality this week. If your institution is interested in hosting a future CLAMP event, please consider filling out our host interest form.
---
Hack/Doc Fest Winter 2020 at Swarthmore College: Event page | Day 1 | Day 2 | Day 3