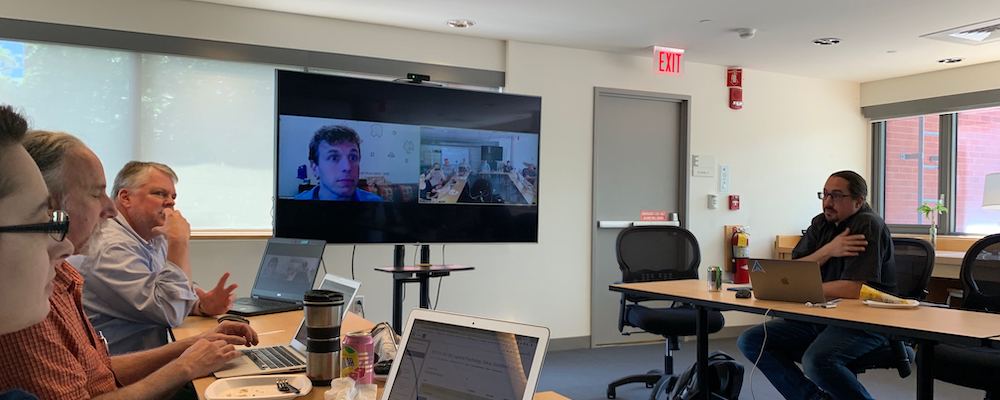 Work on the task list continued during Day 2 of the Moodle Hack/Doc Fest at Smith College, punctuated by two lunchtime presentations from members of the community.
Lunchtime presentations
Darren Hall from Occidental College presented on the ACRL IL Framework and how they're working to map each of the frames to Moodle competencies, and then associating activities/assignments/projects with those competencies.  Individual faculty could then add this competency to their course, but the conversation would have to be driven by instructional technology and librarians. Darren has created a document, Setting Up and Using Competencies, which illustrates the work behind this implementation effort.
Andrew Reuther from Swarthmore College called in for a group discussion of next steps for Swarthmore's PDF accessibility tool. We were also joined by Rob Eveleigh, Five Colleges EIT Accessibility Coordinator. Swarthmore is still working on interface for administrators for system-wide status and reporting. They're looking for a way to identifying bad OCR in files, possibly via spell-checking. There was also a discussion about CLAMP hosting an accessibility server on AWS for the benefit of its member schools. Dan Wheeler has created an ad-hoc report for aggregating results.
From the task list
We continued to work on yesterday's tasks and added a few new ones:
Moodle 3.7 review
We ran down the list of new features in Moodle 3.7 and found that they mostly worked as advertised: improved printing from the book module, the new test email feature (would have been handy for the CME migration to AWS), the various messaging interface improvements, the new Boost-based "Classic" theme, PDF rotation, and starring/sorting forum discussions.
Asynchronous backup and restore mostly works. This new feature, which must be enabled by the site administrator, creates a background task for backing up or restoring a course. This eliminates the timeouts which can occur with large courses. While backups are in progress, a user with editing turned on is warned not to make changes to a course. No such warning is issued to a user when a restore is in progress. We did find one bug: if you choose to delete a course when restoring asynchronously, the course will not be deleted and the new and old content are merged. CLAMP has reported this issue to core as MDL-66021.
Moodle added custom course fields: MDL-57898. These are similar to custom user profile fields: you can define different types including checkbox, date/time, dropdown list, short text, or text area. The fields can be grouped into categories, which affects how they're displayed on the edit course page. Visibility options include visible to students, visible to teachers, or hidden. The fields appear on course listing pages such as the default Site home or a course category page, but not on the course overview dashboard. This makes it hard for students to find this information. It's not possible to filter on these fields either. The intended public use case is exposing them to global search.
Fordson
Fordson is a Boost theme with innumerable settings and fiddly bits. Several CLAMP schools are running it or switching to it for Fall 2019. Mount Holyoke compiled and shared a document with their standard settings: Fordson Theme Settings from Mount Holyoke.
---
Hack/Doc Fest Summer 2019 at Smith College: Event page | Sprint | Day 1 | Day 2 | Day 3