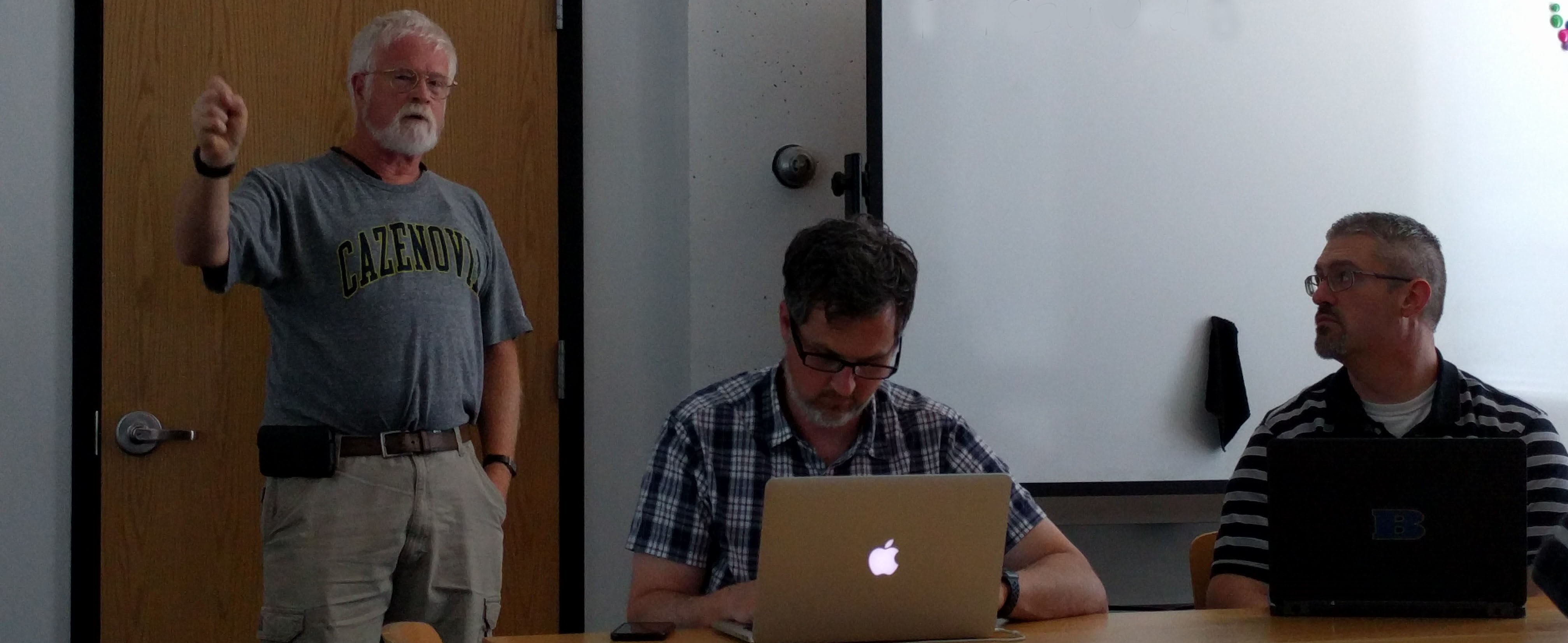 Yet another productive day thanks to a well-attended Hack/Doc Fest.
Kevin Wiliarty from Hampshire College spent a little time in the morning encouraging some of the new-to-Moodle attendees to check out the free Moodle Mooc.
We took a break mid-morning to walk over to the R.W. Kern Center, which was built at Hampshire College last year with the goal of certification under the world's most advanced green building standard, the Living Building Challenge: generating its own electricity, collecting its own water, and built avoiding toxic "red list" chemicals using materials mainly from local and regional sources.

After taking a quick tour of the building we headed outside for a group photo!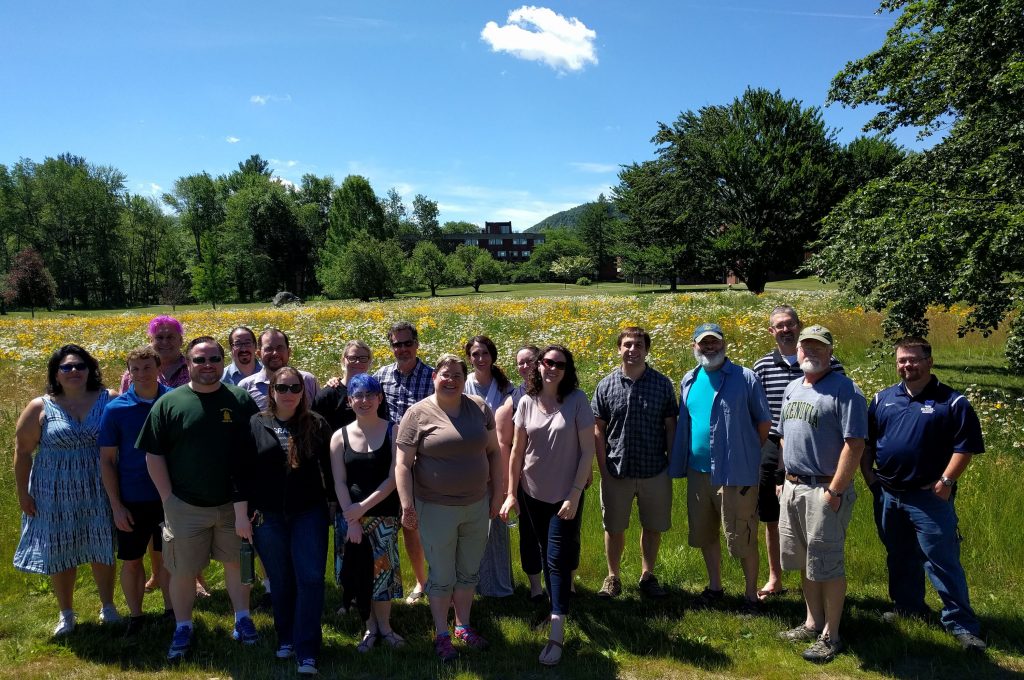 Lunchtime Presentations
Bonnie Solivan from Wesleyan University provided an overview of using Badges with Moodle 3.2. She encourages the use of badges, noting that it's a great way for students to be able to visualize what they've learned and achieved. At Wesleyan they've connected Badges with Lynda.com so that students can pull their skills with badges into their LinkedIn profiles.
Megan Grady-Rutledge from Butler University shared her experience and results from a Moodle 3.1 Mobile pilot. Megan participated in a free Moodle Mobile Mooc and she used the tips acquired there to help guide course content design. Overall she thinks turning on and supporting the app is worthwhile based on feedback from students, but there is definitely a learning curve for faculty to think about designing their courses for mobile.
Dan Wheeler from Colgate University and Holly White from Luther College talked about the advantages and disadvantages to hosting their Moodle installations with eThink. Overall they've been satisfied with their experiences, though they shared some of the pain points that came along with giving up a certain level of control.
CLAMP Steering Committee Update and Recognition Awards
We had a brief update from the CLAMP Steering Committee to ask for more nominations for CLAMP member schools to join the committee, and to announce the CLAMP Recognition Award winners. Congratulations to Joe Bacal and Dan Wheeler!
More Updates from the Task List
Boost Accessibility Testing
A doc'er ran the Wave tool on all four themes installed on a test instance (Boost, Clean, Essential, and More) and found that Boost was the most accessible. Some of the accessibility issues will need to be updated by core since it has to do with the way PHP is rendering the code, so these findings regarding Boost will be submitted as UI bugs in the Moodle Tracker.
Merged Course Tool
This plugin was updated to include the option to move children courses to a category.
Automated Tests for LAE 3.3
Done, and the LAE beta with plugins should be ready by this Sunday.
Moodle Mobile 3.3
Some testing was done, but a comprehensive review was not completed.
And more fun…
There may have been a mid-afternoon field trip over to Flayvors at Cook's Farm for some ice cream…
---
Posts from Moodle Hack/Doc Fest, Summer 2017 at Hampshire College: Homepage | Sprint | Day 1 | Day 2 | Day 3