Cindy Evans, Director, Foreign Language Resource Center and Lecturer in French, Skidmore College
Skidmore's model of LAC offers students the possibility of reading in the target language in conjunction with virtually any other course they are taking in English.  This individualized LAC model allows us to reach a wider student population than the more common model in which only certain courses carry a LAC component. The resulting "course," essentially a group of students conducting independent studies, presents a challenge for curricular design. My approach to "teaching" the French LAC course has been to bring students' work into a single forum through the use of moodle both in and outside of the classroom. Students submit weekly summaries and selected translations of their readings in the wiki to facilitate real-time revision in class.
We make use of the glossary feature in Moodle so that each student contributes vocabulary items that result in the building of a collective class glossary.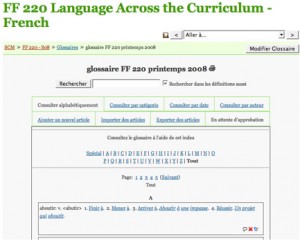 While students are not responsible for learning all of the material, they do see other students' entries that are featured on the main page in the block that displays randomized glossary entries.
This option is a useful feature to include on the main page, along with the RSS feeds for French news that encourage students to read in the target language and keep up with current events in France, which we discuss in our weekly LAC sessions.